Did you know that Pepsi was the only western enterprise operating in the USSR and had one of the biggest military fleets of all time? Well, I'm sure you knew already, but I will talk about this and a few other anecdotes down below anyways… 
To start, it was in 1959 during the American National Exhibition in Moscow, that Don Kendall, the CEO of Pepsi, offered a thirsty Khrushchev two soda cans, one made in the United States, and the other manufactured in Moscow. This was meant to warm up the relationship between the two countries. Obviously, the General Secretary of the USSR preferred the soviet-made one and bought a few of them for himself, but it wasn't until 1971 that Pepsi broke into the Soviet market in a more than curious way… 
During an international business conference between Nixon and Alexei Kosygin, Don Kendall managed to sneak a Pepsi-shaped radio as a gift for Kosygin. The Soviet found this so hilarious that he greenlighted Pepsi for negotiations into the Soviet Union. However, as the ruble (the Soviet currency) couldn't be exchanged for US dollars at that time, a different agreement was reached: Pepsi started selling Stolichnaya vodka in the United States.
Twenty years later, Pepsi had such a success in the Soviet Union that the vodka selling could not relief the economic cost of such demand in such an alien market. This is when the famous anecdote occurred in which the Soviet Union conceded twenty obsolete warships, mainly diesel submarines, to the Pepsi Company for scrapping.
People usually think this is the only time this happened between the USSR and Pepsi, but it actually happened again the following year, this time with oil tankers and freighters, sadly not as interesting ships as submarines or cruisers.
But this is not the only interesting fact about the Cold War. One must understand that during that period, information from the USSR would be too difficult to leak to the western block, that's why Churchill referred to it as the Iron Curtain. For example, the bomber and missile gap were military concepts that raised only because the US military imagined they existed, as they couldn't see what was really happening inside the Soviet Union.
One famous example is namely known as the "uncontested American air superiority incident", where, during the 60s, an American satellite oversaw the construction of the soviet Mig25-Foxbat, a plane meant as a pure high-speed and high-altitude interceptor. Due to the lack of information about this, the Air Force thought it was going to be an air superiority fighter due to its big wing frame and huge control frames, leading to the development of the undoubted best air superiority fighter ever, the F15-Eagle.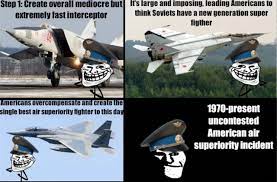 Finally, one must imagine the faces of the US intelligence officers who told the Air Force that the Mig25 was going to be a highly capable air superiority fighter, after they saw the overheated piece of metal brick when one of their pilots defected to Japan in 1976.